Aluminum Is Becoming The First Choice For Upscale Texas Homeowners

For Texas's Upscale Homes metal roofing is becoming more popular. In addition to the beauty, a metal roof adds let's look at some of the advantages of Aluminum roofing. When aluminum roofing was first introduced, many in the roofing business considered it the way of the future. While that was over a hundred years ago, today more than ever aluminum is celebrated as a truly phenomenal choice. An aluminum roof has numerous advantages to it, making aluminum one of the most highly sought after metal roofing materials. Aluminum roofs are lighter, stronger, and more dependable than almost anything else. Aluminum roofing has been shown to increase property values, reduce energy costs, and endure some of the harshest weather conditions.
The Benefits of Lightweight Aluminum Roofing
One of the best benefits of installing an aluminum roof is that it's far lighter than conventional roofing materials. Even when compared against other metal roofing materials, aluminum reigns as the lightest material available. The lightweight properties of this metal are one of the reasons why it's used in the aerospace and architecture industries. A lighter weight means less stress on your home. This allows you to put in fewer supports without creating a higher risk of roof collapse. The less structural reinforcement required, the less labor and installation costs you'll have.
To Schedule a Free Roof Inspection and No Obligation Consultation call us today.
Houston 

1-713-955-2902


Austin     

1-512-856-1495
We're also available 24/7 for Emergencies.
The Durability of Aluminum Roofing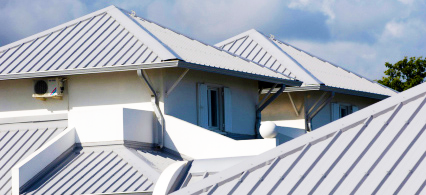 Aluminum roofing is incredibly durable, making it an attractive choice for areas that see harsh weather conditions on a regular basis. The ultimate endurance levels will be determined by the style of roofing you decide on. After all, aluminum roof panels and aluminum roof shingles will not have the same strength levels since the metal roofing
material is secured in a different way. Many aluminum roofs have survived hurricane winds, making this material an excellent choice if you live in the path of dangerous storms.
An Aluminum Roof Has Superior Corrosion Resistance
Aluminum as a material is much more naturally resistant to rust and corrosion than most other metals. Because of this, aluminum roofing does not tend to lose its shine over the years. The reason for this is that aluminum roofing forms a natural oxidation layer at its surface. This acts almost like the coating on galvanized steel, protecting the inner metal from exposure to the environment. If you live in an area that's susceptible to corrosive elements, such as the shore, you may want to spend some extra money and invest in an aluminum roof coating. This provides extra protection against the elements. This coating isn't always necessary since aluminum roofing is naturally so resistant to rusting.
Aluminum Roofing Provides Environmental Benefits
Unlike conventional roofing materials, aluminum roofing is very environmentally friendly. This is because it is generally made from recycled aluminum metals. An aluminum roof also reduces your energy output by making it easier to keep your home at a comfortable temperature. This reduces your consumption of power, making your impact on the environment much lower. Aluminum roofing truly is the way of the future in this respect.
Increase Property Values With Aluminum Roofing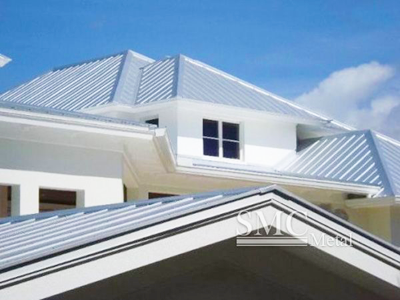 Another benefit of an aluminum roof is that it significantly increases your home property values. Because aluminum roofing tends to last for multiple decades, it is seen as a permanent investment in the home. People looking to buy a home always look at the quality of the roof before they make a final decision. Not only will aluminum roofing increase the property value, but also its presence also makes the home more likely to sell.
Improved Safety Through Aluminum Roofing
Safety is always a concern, especially when your home and all your belongings are at stake. Aluminum roofing increases the safety of your home by reducing the risk of fire or flood damage. Since aluminum is not a flammable material, it won't burn under the same conditions that will set conventional roofing materials ablaze. In addition, aluminum roofs can be installed at far lower pitches than other roofing materials, making it a better choice for homes that need flat roofs. Many insurance companies will actually lower your homeowner's insurance rates once the aluminum roofing is installed.
Reduce Energy Costs With Aluminum Roofing
Aluminum roofing has been proven to reduce monthly energy costs, especially in cold or hot months. Aluminum is even better than other metal roofing materials at this task because it's a better reflector of heat energy. By reflecting sunlight away from your home in summer, less energy will be needed to keep your house at the desired temperature. In winter, the heat that's already in your house won't escape as easily because the aluminum roofing will reflect it back inside. In any season, this serves to reduce your energy bills.
To Schedule, Your No Obligation Consultation and Roofing Inspection, Call Us Now
In Houston
1-713-955-2902
In Austin
1-512-856-1495
We're always available 24/7 for Emergencies.