Residential Roofing Shingles

Asphalt shingles are the most common type of residential roofing shingles in the USA. Asphalt shingles are made from asphalt re-enforced with either organic material or fiberglass. They then coated with small metallic surface granules to protect the roof from UV-rays that speeds deterioration. Asphalt shingles come in a wide range of colors, sizes, and styles. Severe storms can seriously damage asphalt shingles requiring repair or replacement.
Hail Roof Damage to Asphalt Shingles
Your roof is the most commonly damaged part of your home or business in a hailstorm. Damaged shingles may allow water to seep through the roof causing additional damage. Leaks can damage the roof deck, support structures, interior walls, or windows.  Leaks can cause staining on walls and even flood inside your home. A leaking roof can lead to costly additional damages. Be aware many insurance policies set strict time limits on the time frame for submitting claims after hailstorms.  So if you have hail damages, most likely most of your neighbors also have hail damage, so it's important to act quickly getting estimates and the repair process started.
When Storms Damage Your Roof, Don't Wait, For a Quick Response Call Our Emergency Hot Line
1-713-955-2902
On an asphalt roof, hail damage looks like a dark spot, or bruise, where the roofing granules have been knocked away (look in gutters for the accumulation of granules). In some cases you may find holes, cracking, or missing shingles on roofs with hail damage. This can result in leaking and serious water damage. Leaking water can lead to mold formation and wood rot. This can compromise the structural integrity of your roof resulting in collapse. Shake(wood), metal, tile, and slate roof shingles can all suffer damage from hailstorms. Due to the materials, each type of shingle shows unique signs of damage from hail. If shingles are cracked, missing, torn or split at seams, you should definitely have a damage inspection. If you notice leaking inside your home after a hail storm, get an inspection right away
Some Common Signs of Hail Damage
Bruised or dented asphalt shingles
Cracked or broken tile, slate, or concrete shingles
Granules collecting in gutters or downspouts
Leaks in your roof or ceiling
Dents on vents, gutters or flashing
Tornado Damage
After a tornado, split seams and torn or missing shingles can result in leaking and serious water damage. This can lead to mold formation If not repaired and cleaned up quickly. Again leaking water can cause wood rot, and will eventually compromise the structural integrity of your roof in a way that could result in collapse. Don't hesitate it only makes things worse.
Wind Damage
After a severe wind storm, it is common for individual shingles or entire sections of the roof to be missing altogether. On other types of roofs, including shake (wood), metal, tile and slate, damage can include broken or cracked shingles, missing shingles, torn or split seams, and missing sections of the roof. If a tree limb or other debris has fallen onto your roof during the storm, you may have structural damage and will want to exercise extreme caution.
Sun Damage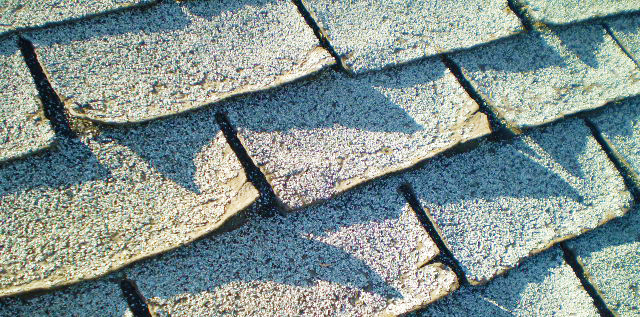 As soon as your roof is installed the sun begins to deteriorate the material. Every single day (even cool and cloudy days) the UV rays from the sun damage and break down the roof. Under the exposure of UV rays of the sun, free molecules of oxygen mix with heated hydrocarbons in asphalt and deterioration begin. Molecular breakdown by the sun dries out the oils in the roof. The roofing material becomes dry and brittle and eventually, it loses its waterproofing qualities. Heat accelerates the breakdown process. The damage done from the UV rays greatly speeds up when the weather is hot. A typical rooftop gets up to 160º on a hot summer day when the air temperature is 90º. Over time the roof looses flexibility and becomes weak. Your roof expands and contracts every day. This is referred to as thermal shock. The sun's heat makes the roof stretch out in the day. At night, the evening cools the roof causing it to contract. Flashings and drains are typically metal. They expand and cool much quicker than the roof membrane. Over time, the tremendous strain from the thermal shock causes metal drains and flashings to pull away from the roof assembly in these critical areas. The movement also causes the roof to split.
To Schedule, Your No Obligation Consultation and Roofing Inspection, Call Us Now
1-713-955-2902