Commercial Roofing Houston & Austin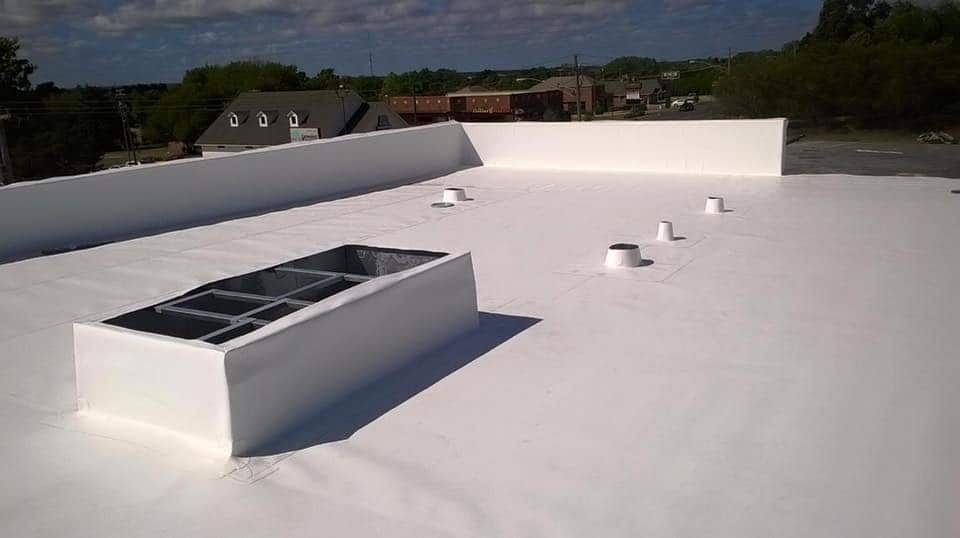 Texas Metal Roofing Contractors provide roof installation, repair, and maintenance for commercial roofing projects such as retail stores, schools, apartment buildings, warehouses, restaurants, banks, and more. Our team understands the importance of budget and proper scheduling to minimize disruption to your business functions. We work closely with your business to meet your needs. Our many years of experience working with Texas businesses have given us a keen insight into delivering the most value for your roofing investment.
We are known for developing our Annual Roofing Inspection Program along with roof maintenance plans that can extend the service life of your roof and protect your manufacturer's warranty while maintaining its effectiveness.
Commercial Roofing Materials
Texas Metal Roof Contractor's experts will also assist you in choosing the right roofing materials for a new roof to best protect your business and its valuable contents. We are experienced at installing and repairing all types of commercial roofs including:
Metal roofs: 

Metal has been a very popular option in Texas and is becoming more popular every day. New coatings and alloys make metal roofing more durable and product life cycles that can exceed slate and shingles. If you want a roof that will stand the test of time, you want a metal roof. They usually last at least twenty five years and sometimes last up to fifty years. Metal roofs are rarely affected at all by harsh weather. It can take the harshest rainfall, wind, and sun. Normally, they will withstand any weather conditions. In addition to weather, they also resist mildew, insects, fire, and rot that commonly affect other roofs.
Flat roofs: Flat Roofs are the most common type of roof used on commercial buildings. This type of roof requires a highly specialized team that understands the important coverage and drainage issues.

Shingle roofs:

 Shingles are used on peaked roofs, asphalt or fiberglass shingles offer affordable protection in a wide range of styles and colors. We can help you match the right choice for you commercial building style and size.

Slate roofs:

Slate is one of oldest known roofing materials. Modern slate roofing material from manufacturers such as GAF are modified to be lighter and more affordable and still provide an elegant look and long life. Slate is an excellent choice for historical buildings.
Don't be afraid to let an expert help you. It costs you nothing to get in contact with us. To Schedule, Your No Obligation Consultation and Roofing Inspection, Call Us Now
Houston
1-713-955-2092
Austin
1-512-856-1495
Back to TexasMetal Roofing Contractors